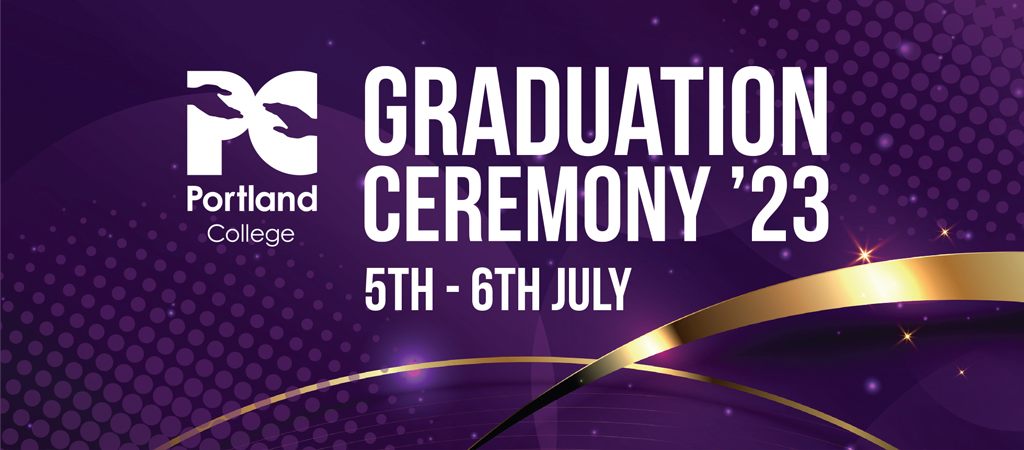 Graduation Ceremony Information
Welcome to the Graduation Ceremony information page. Here you will find everything you need to know about your Graduation Ceremony, including booking forms, event details and frequently asked questions.
Graduation Ceremony Details
We are holding four Graduation Ceremonies for learners leaving Portland College this year, one for each learner journey.
Communicate Learners – Wednesday 5th July, 1.00-2.00pm
Explore Learners – Wednesday 5th July, 2.15-3.30pm
Develop Learners – Thursday 6th July, 10.00-11.00am
Demonstrate Learners – Thursday 6th July, 11.30-12.30pm
All ceremonies will be held in Newstart Theatre, followed by light refreshments in the Coffee Shop and an opportunity to purchase photography in the Exhibition Room.
If you would like to attend your ceremony, you can book yours and your guest's places below.
Please ensure you and your guests arrive at least 15 minutes before your ceremony start time.
What to do next
You will need to book yours and your guest's tickets by 21st June.
Book your Learner Graduation Ticket. Tickets for graduating learners are free. 
Book your Guest Tickets (up to 2 guests). Tickets for guests are £5 each and you will need to complete a registration form for each guest. 
If you receive Free School Meals we will waive the cost of your guest's tickets. Learners on Free School Meals can select the Free Guest Tickets option.
Book Now
Frequently Asked Questions
Can I bring more than 2 guests?
Unfortunately, we can only accommodate 2 guests per learner. If you would like additional guests to go on a waiting list, you can contact us at marketing@portland.ac.uk and we will let you know if any additional spaces become available.
Is there a dress code?
There is no formal dress code for learners or guests. Learners will not wear cap and gown.